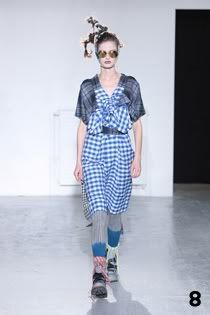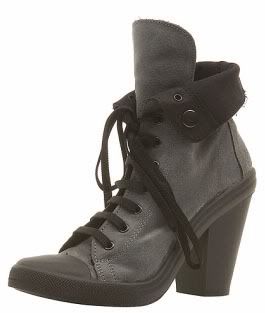 Sorry about the crappy quality of the photos.
(From top: Bernhard Willhelm AW09-10, Osklen sneakers, Topshop sneaker heels)
I haven't felt the urge to buy sneakers for years but all of a sudden I want them. Not just regular ones but haphazard, colourful or ackward, verging on ugly ones. I recently bought a couple of Japanese fashion mags from the amazing Kanga Kanga (i love that place so much) and have been oogling over photos of girls wearing crazy sneakers. I'll try and scan some of the pages in over the weekend and share because the styling is too good to keep to myself.
I'm also loving Bernhard Willhelm's latest collection, the colours are just so right. I'm at a strange stage where most of my clothes are black/grey/navy/white but all I want to wear is blues, pastel pinks and mint. Well not 'all' but I want to at least inject
some
colour into my outfits. I'm feeling a trip to Camberwell market is in order asap.
Last night I felt all nostalgic so was watching Spice Girls video clips on Youtube and remembered how much I love the 'Say You'll Be There' clip. It's so bad it's good. And I really really want that blue car.