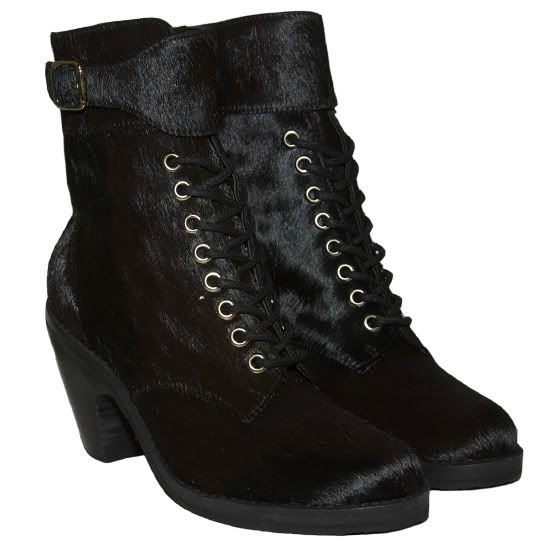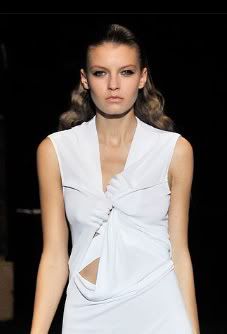 YES
Rachel Comey's amazing boots

(via
Gargyle
). Maybe it is just me but they seem like the most versatile boots in the world right now (perhaps an exaggeration) but wouldn't they be great with a really frothy pastel outfit to weigh it down, or with black trousers and a crop tee, or with Henry Holland alphabet tights and a Nom D dress, or with a printed Ksubi silk dress?
Hussein Chalayan S/S 10 Collection

- so while most of it was just 'nice' these hand details are brilliant (sure they echo the CDG glove collection but they take it to another level!) The tension in these pieces is incredible, there is a real sense of push and pull and they give what would otherwise be beautiful draped dresses much more depth.
Viktor & Rolf S/S 10 Collection

- I love this image (and the whole collection) for so many reasons. It is fun and playful and I really want to experience the feeling of destroying a tulle gown with a chainsaw at least once before I die.
Comme des Garcons S/S 10 Collection

- well obviously it is CDG so it was always going to be good and lots of people have discussed just how complex and genius this is (like TAVI) but for me in the context of this post and following on from Viktor & Rolf it is the HAIR that is driving me crazy. It looks like a cloud of fairy floss, or like bubble bath, either of which are good in my book. It is a beautiful contrast to the clothing and adds lightness, the models appear as if they could float away at any moment.
Apologies for the lack of coherance, this is a spontaneous post that is functioning as part of my procrastination from the pile of homework I should be doing.