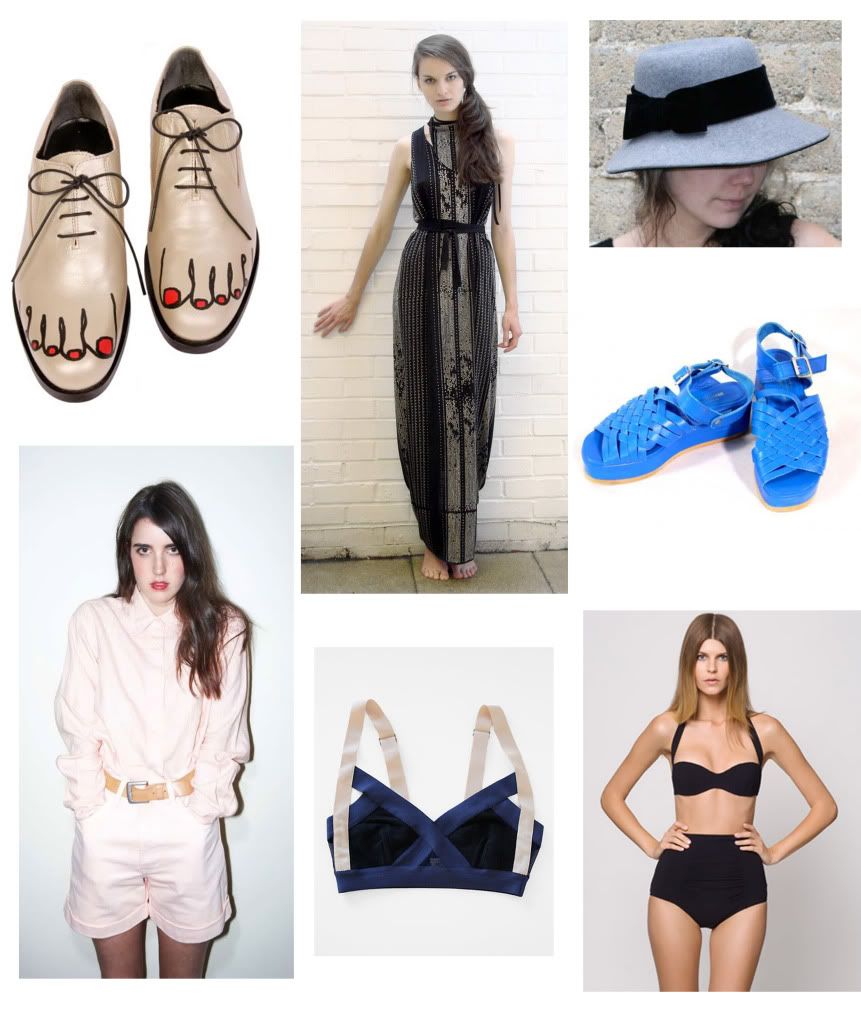 From top left:
Comme des Garcons shoes
from
Colette
Materialbyproduct dress
from
Not Just A Label
Yves Saint Laurent hat
from
etsy
(sold while I was stupidly trying to decide if I needed it. OF COURSE I NEED A YSL HAT. sometimes I am silly.)
Junya Watanabe sandals
from eBay
Arnsdorf shirt, shorts and nude leather belt
from
My Chameleon
VPL bra
from
Creatures of Comfort
Tigerlily bikini
from
Bird Motel
(sold out)
Bernhard Willhelm dress
from
Creatures of Comfort
TV hand knitted hat
from
TV
Acne black zebra pants
from
Acne Online Outlet
(sold out in black)
Seeing as the festive season is upon us and everyone is making wishlists I decided to jump on the bandwagon and make one myself. Whenever I make wishlists I like to go all out and include items that I am very unlikely ever to own (due to being expensive or sold out). Regardless of the unattainability factor, I really enjoy making wishlists because it gives me a clear indication of the kind of things I like at the moment. I can make a coherent story and make sense of all the spontaneous and instinctive urges I have when I see certain items. It also gives me ideas for when I go second-hand shopping and for DIYs.
Although this wishlist does include one item I bought recently that had been on my "never going to happen but I love you and will continue to fruitlessly search eBay for you" list for a long time - the Junya Watanabe SS08 sandals. They are on their way to me now via eBay where I got them for a bargain price. I can't wait until they arrive and I can experiment. They are my first pair of colourful shoes and will be perfect for this summer (and every summer after that, and in winter with socks, and at home when I am cooking, and ALL THE TIME)
Not so unattainable after all.