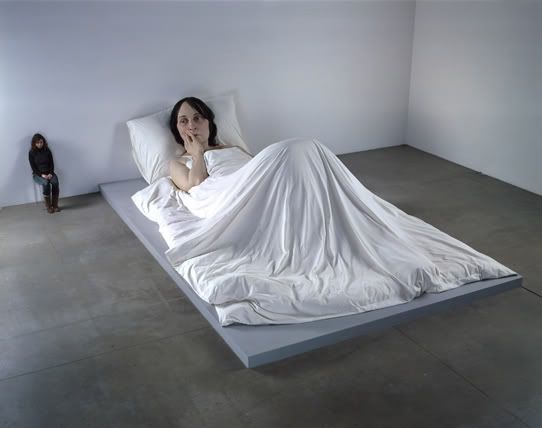 I have been in love with Ron Mueck's work since I saw his exhibition at the National Gallery of Scotland in Edinburgh in 2006. I had only seen his work in photographs prior to that show, and while I had been impressed by the technical skill, it was only in real life that I came to truly appreciate the emotional power of his hyperreal sculptures. Standing in a room with one, their presence is striking. I could swear that I saw one move out of the corner of my eye.
Luckily for Melbournians, or anyone visiting Melbourne in the next few months, Ron Mueck is having an exhibition at the
National Gallery of Victoria
until April 18th. I haven't made it to the show yet, but will be going early this week and so felt the urge to research Mueck's process and concepts a little more. I won't bore you with everything I read, but enjoyed discovering Mueck is a self-confessed recluse, who even avoids attending his own openings. He doesn't like to explain his work, but reveals he is greatly inspired by old masters such as Giambattista Tiepolo. This quote from the
NGA
website stuck out:
"He does not wish to tell us stories about his work, because it is for us to bring our stories to them."
I really enjoy finding out about the process and routine behind a work of art. I've also been reading
Daily Routines
, a collection of articles about "how writers, artists and other interesting people organise their days". It is a fascinating read, a great complement to the photo based blogs that also offer insights into people's lifestyle choices such as
The Selby
.