Today I was thinking about details, those little unexpected elements that transform an outfit from nice to extraordinary, that add a personal touch and twist to the classics. In particular, I was thinking about standard accessories, such as as belts, shoelaces, ribbons, that when taken from their natural habitat can completely refresh an outfit. I am calling these 'displaced accessories', because I am in the mood to be a bit wanky and act like an editor labelling trends. Sometimes I like, no
need
, to box and label things both literally and metaphorically in order to move on. There have been a few images circling around in my head lately, and it was getting a bit chaotic until today I found a way of linking them. So I present to you my list of displaced accessories...
1. Ribbons worn as shoelaces
This was of course inspired by
Style Like U
. I tried to replicate this at home but soon realised I didn't have any suitable ribbons. I'm sure you could try with thin ribbons, but I wanted thick, taffeta-like stuff. So I went through my fabric remnants and still wasn't inspired. Then I tried used thin silk scarves. I think it looked pretty good, but I need to get some more fabric so I can have matching boots, although asymmetry is always fun. I have no photos yet but will take some later today when I have been to the fabric store.
2.
Shoeslaces
worn as belts
After seeing
Alessandra Calabi
's Acne pants on
Style Like U
I had a strong desire to either a) buy the exact same Acne pants or b) just buy some shoe laces and wear it as a belt. I decide to get thrifty and after a quick google search bought some black, fat laces from the
Super Fat Laces
site. You might be able to get them cheaper elsewhere but I wanted a quick solution and they still ended up costing less than AU$10. That is the best thing about these 'details' - they are generally quick, cheap and easy to accomplish. I have similar pants already, so I can't wait until the laces arrives. I'll be sure to post the results!
If you are cashed up and want the real deal you can get the Acne Play Trousers (with shoelace belt) in their outlet HERE.
3. Belts worn as anklets
Image from Spotding. This is such a good idea. Again, quick, cheap and easy. I'm sure most of us have a studded belt lying around, and if not a trip to a flea market or second hand store would deliver the goods. The great thing is the belt could be seriously ugly but when turned into a shoe attachment it becomes a thing of great beauty.
4. Anklets (or bracelets or necklaces) worn as headpieces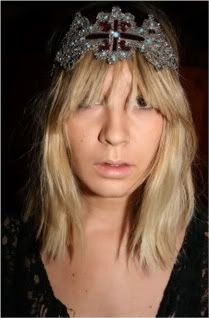 This is kind of cheating because I posted this pic already, but I've always like the idea of using jewellery as a headpiece. Once again image from Style Like U (I wonder how many times I can link this site in one post?)

5. So the nice flow had to end somewhere...but gloves as headwear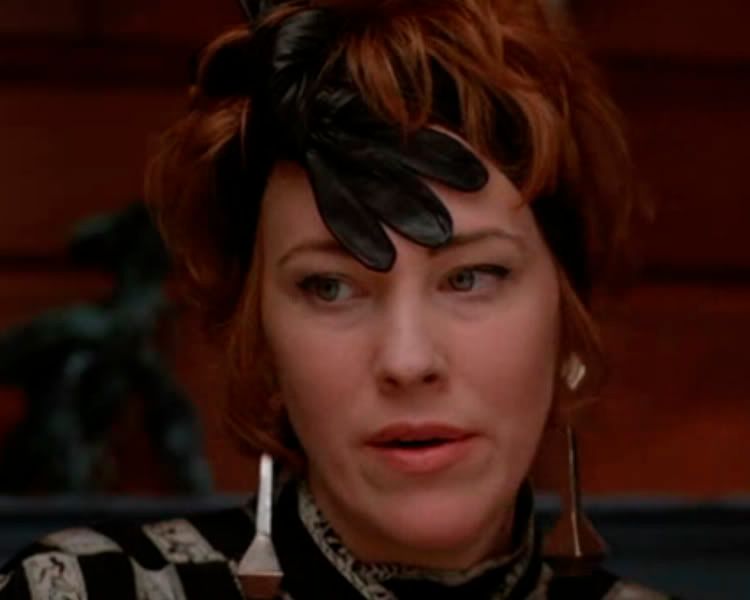 A la Beetlejuice via one of the best blogs going around – Is Mental.

6. Scarves as headwear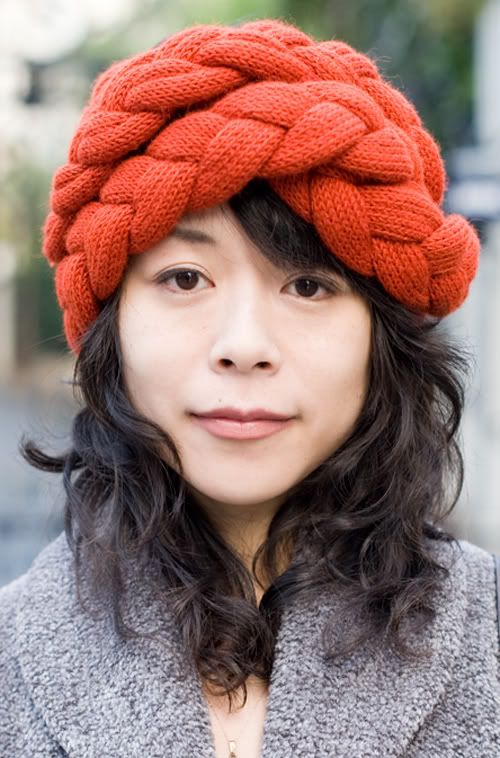 So this probably was originally intended as a headband, but I love that it looks like a plaited scarf. Image from Ringa, have a banana!

Now this is not in keeping with the displaced theme, but I've been seeing a few peeps wearing chunk short necklaces with buttoned up shirts or simple tees and I'm really liking it. So I'm going to copy it. Here are the images that brought on this obsession...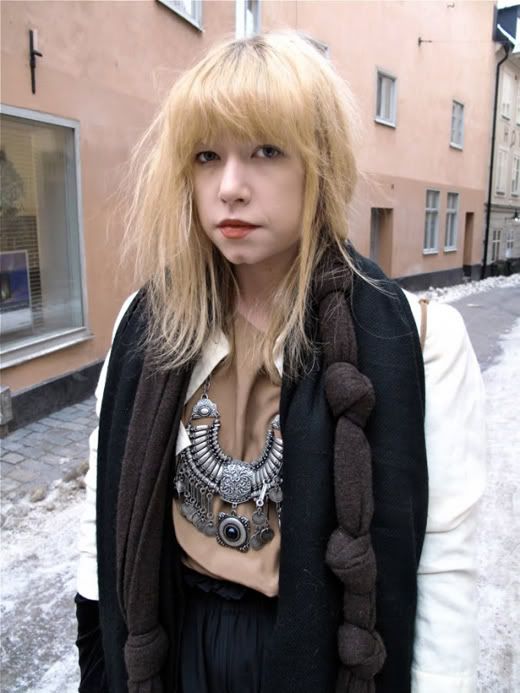 Via 1. Face Hunter 2. origami mon ami (another great blog). 3. Turned Out
Again, fairly easy to replicate because most people have at least one shirt or plain tee, and these kind of necklaces can be bought cheaply from lots of places. I already had a few necklaces that kind of work, they aren't perfect but it was a good start working with what I already have.
Silver necklace: Sportsgirl (from about 3 years ago?)
Wooden necklace: Present from my mum bought at Camden markets
Shirt: Arnsdorf apricot shirt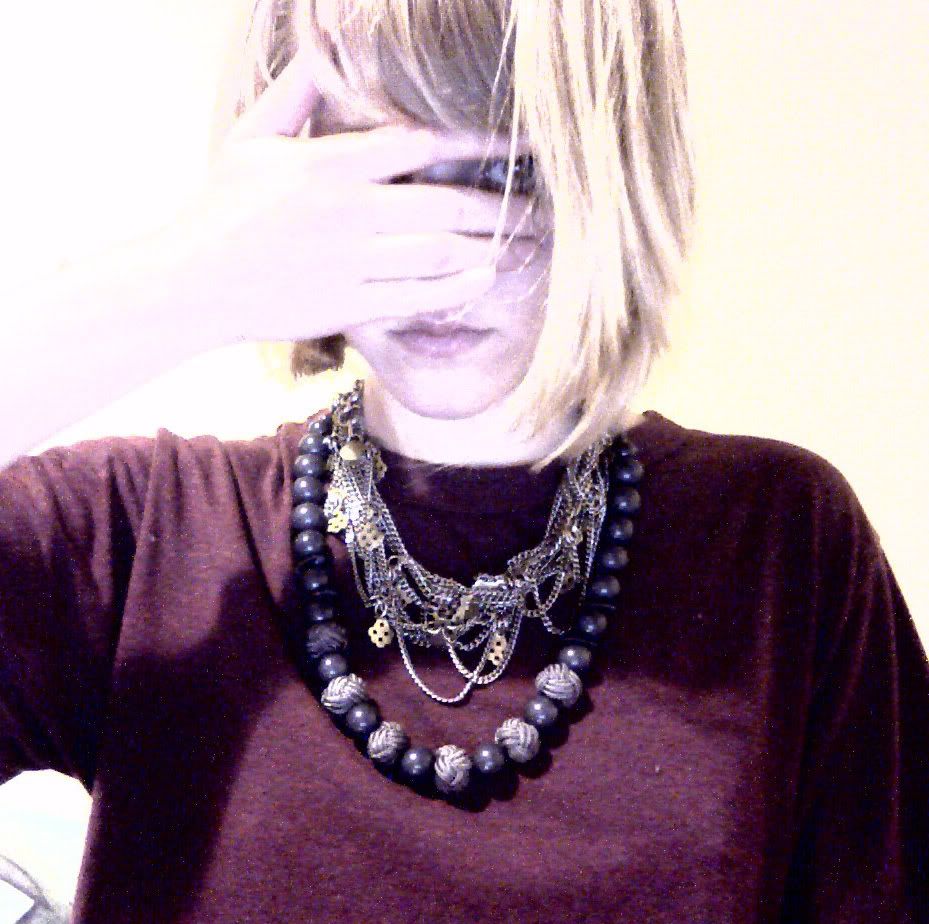 Silver necklace: Belly dancing chain belt from Camberwell markets looped twice
Blue bead necklace: Bought on sale at Myer (department store) a few years ago

Tee: AA tri-blend crop tee
So these are my poor attempts at easing myself into the outfit photo business. I still don't have a tripod but will attempt to balance my laptop on my bed or desk and get some crappy but better-than-nothing full length pics later today. Also this morning I am going on a mini op shopping/fabric store trip so I can continue experimenting with these ideas. Hopefully I find some cheap, fun necklaces, ribbons, belts and gloves to play with!