I am on a blogging roll people! I realised today that I will never be the steady, reliable type of blogger that posts everday. Unfortunately for you I am much more up and down when it comes to inspiration, so please excuse me if I am absent for a few days or longer, just know I will be back soon with lots of posts up my sleeve. And I thought about scheduling posts so instead of bombarding you all they come out routinely, but I prefer it this way. I like looking back at the dates of when I posted and seeing when I felt like posting and when I didn't. BUT on to something much more interesting than my blog-style analysis.....
Japan Fashion Week!!!!!!!!!

Tonight I am home and decided to look through the
JFW
site and check out the designers.
I am rarely up to date with fashion weeks, but felt a calling tonight and I am so happy I did.
So far I have discovered two labels I love; Kamishima Chinami (who I haven't come across before) and The Dress & Co. (who I think I have seen featured in So-En before)
First up Kamishima Chinami....



I love the shapes, the textures, the colours, the hair, and the coherence of this collection.
More info about the designer
here
Next up is The Dress & Co.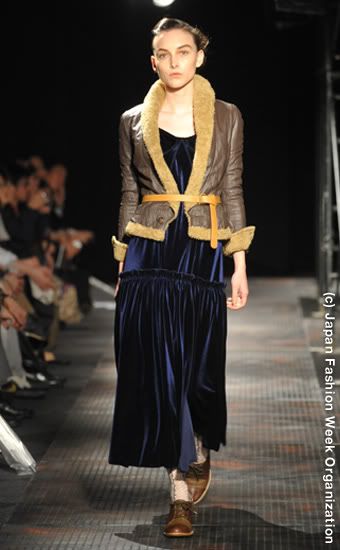 With this collection it is mainly the styling that I am drawn to, rather than individual pieces. Each outfit seems like it would be quite easy to replicate with existing items and are wearable without being boring. There are lots of lovely details, and the colour palette is exactly to my taste.
I highly recommended checking out the
JFW
site if you have some time to kill, they have updated with an archive so you can look back over past collections as well. It is almost too good too be true.