This quiz was passed on to me by the lovely Mez from Blithely Unaware.I've never done a quiz on the blog and as a result my answers are way too long so I've chucked in some outfit pics to break it up a bit. If you make it to the end bravo.
How would you describe your style?
Good question. I've been thinking about this myself recently in an attempt to have a more coherent wardrobe, but I realised I like a mish mash of things that don't really go together and the fun part is trying to make it work. My wardrobe is a mix of vintage lace dresses , crazy draped/deconstructed CDG type stuff, a few A.P.C shirts and cardis thrown in, a bit of Arnsdorf, TV and Gary Bigeni for patriotism, lots of man style pants and brogues, lots of high waisted shorts/skirts, about a bazillion tights, some basics from AA and Topshop. I guess colour is where I try and make it all work by sticking to lots of black, grey, cream, navy, rust, khaki with splashes of blue, pink or burgundy. Lace, stripes, spots, plaid, drapery, sheer, layered, volume, men's clothing >> an outfit with as many of these elements as possible makes me happy. I also enjoy cheap, kitschy accessories.
Wearing from top left: 1) AA tri-blend crop tee, Topshop blue top worn as skirt, long white cardigan/robe thing bought in a vintage store in Notting Hill, Junya Watanabe for CDG blue sandals. 2) All Saints cream lace skirt (that I found for $5 at Camberwell market!) worn as top with secondhand Esprit black slightly flared capri pants, and not shown Opening Ceremony cream cut-out heels. 3) Topshop blue top, Weekday fake suede high waist shorts via Filippa, Arnsdorf nude leather belt, Junya sandals again.
What wardrobe item can't you live without?
As boring as this sounds black tights, AA crop tee shirts and high-waisted shorts. These are the things that form the basis of my daily wardrobe. But in terms of what items I would mourn forever should they ever leave me....my cream netted shorts from HK, my Junya Watanabe blue sandals, Ksubi silk printed dress, Carin Wester for Weekday white cardi with black fox stole print, Opening Ceremony black leather and mesh wedges and my CDG khaki and navy wool jumper. The Bernhard Willhelm dress that is on its way to me is very likely going to be added to this list once it arrives.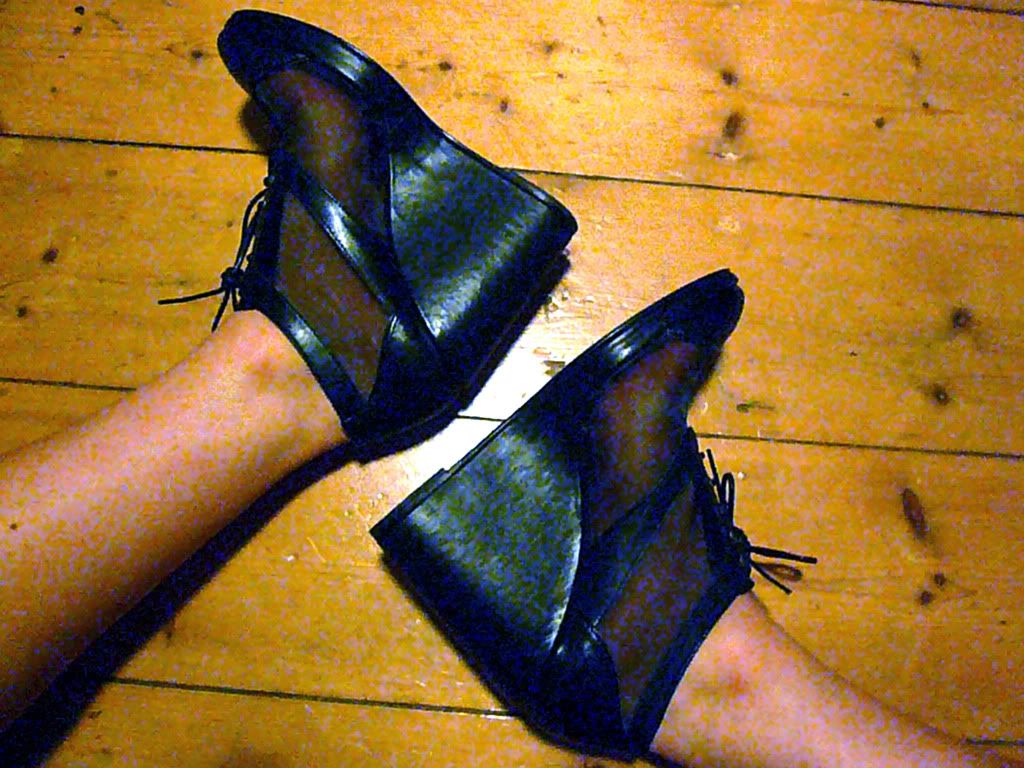 What's on your wish list?
SO MANY THINGS! Almost all of which I predict will remain on this list for quite some time because I am poor and they are pretty much all from past seasons....
Josh Good cloud print dress, Ann Demeulemeester white shirt with buckles at back, CDG Glove top/skirt/dress, the perfect pair of high waisted slim leg pants, LD Tuttle grey lace up boots, Acne sheer zebra tights in black, CDG toe brogues, a Materialbyproduct dress, the perfect printed wool coat, a long sheer pleated pale pink skirt, Tao for CDG wool corset, some Nom D and Akira....hmm I could go on.
But I must say I'm satisfied with what I have now and have no sense of urgency to buy anything new, which is nice.
Who or what inspires you?
Right now - Chocolate covered coffee beans, mangoes, good sushi, good tea, ok so basically good food in general (can you tell I'm hungry?), So-En magazine, StyleLikeU, blogs, walking around the city, sitting on public transport, Cheap Chic Update, finally understanding Derrida after reading one of his essays 4000 times, studying (especially literature/art history), drawing, swimming, dancing, watching Spooks and The West Wing, organising stuff, country op shops, planning, music, learning French grammar, Chloe Sevigny, the whole CDG group, Anna Karina, Bernhard Willhelm, getting my hair cut, road trips, new pyjamas......blah blah blah I could go on forever. I guess you could say I'm an inspiration slut.