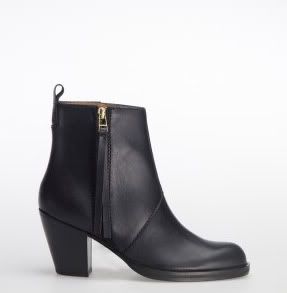 From top:
Acne, Opening Ceremony, LD Tuttle, Rag & Bone, Bernhard Willhelm x Camper
.
"That which changes our way of seeing the street is more important than that which changes our way of seeing a painting"
- Guy Debord
I really like walking, particularly in new places. I've been walking at least three hours a day here, exploring streets both near and far to build up an understanding of this place in my mind, to comprehend the winding streets and vast boulevards so I can navigate with confidence. I also have a thing about maps where I look at them before I leave, maybe jot down a few notes, but once on the street I avoid getting them out again unless I'm really hopelessly lost. This technique often means I end up taking many wrong turns, but sometimes I enjoy taking the longway, seeing streets I may never have otherwise seen.
This sort of exploring requires comfortable and sturdy boots, and as I hope to walk even more once the weather cools down a little I know I'll be needing some boots. I've held off buying boots for a few winters, I didn't find any that I liked in my price range or that I could access from dear isolated Australia. I am still having trouble finding an affordable pair, but for eye candy purposes the above are ideal. At least for the first four the combination of dark leather and a sturdy heel or platform would mean I could walk or bike-ride or run or hike to my heart's content in any number of outfits. But alas, at this moment they are still out of reach, I think I may need to look towards our Swedish friends Nilson or Weekday, who usually do a modestly priced Acne/Opening Ceremony inspired pair of boots.