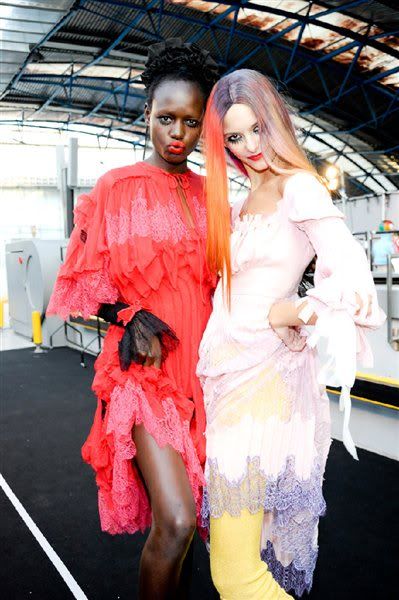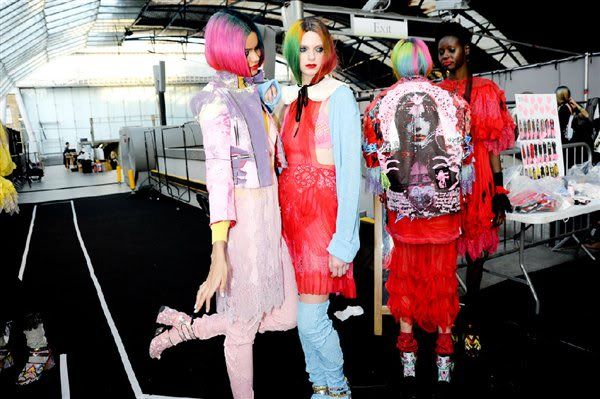 So I haven't been following this season's collections at all, but happened to stumble upon the Meadham Kirchhoff S/S 11 images tonight on
Dazed Digital
. Based on my 10 second review of the collection (seen in full at Elle.com) I still think I prefer A/W 10-11, but aside from comparisons this is a joyful visual feast for the eyes, with perfect hair and make-up to highlight the vibrant textures and playful, yet slightly off-kilter, spirit that MK has come to represent.
Tonight I had my second 'History of Fashion' class for semester, and I cannot express how happy it makes me to be able to discuss designers and fabrics and silhouettes and blogs and everything else in the 'fashion' world alongside sociology, politics and history. I've never studied fashion theory properly at university, with only a few mentions here and there in my art theory classes. While I knew I would love it, I didn't realise how much. As a result I fear I've become that way too enthusiastic person in class, but hopefully I'm not too annoying because I really can't help it. This obsession of mine further reinforces a thought that has been lingering in the back of my mind for...well...maybe 10 years now...which is of course to direct my future towards some kind of career related to fashion. Alas I still don't know what career that would be and so I just continue to float, with graduation and 'real life' only a few short months away. Much like the Meadham Kirchoff woman, I feel swept up in a dizzy dream, totally and utterly wrapped up in the present, but at the same time part of me worries about what comes once I wake up.
Anyone else here lost when it comes to career choices, or life in general?
Or for those with a firm sense of direction, when and how did you realise you wanted to do what you do?