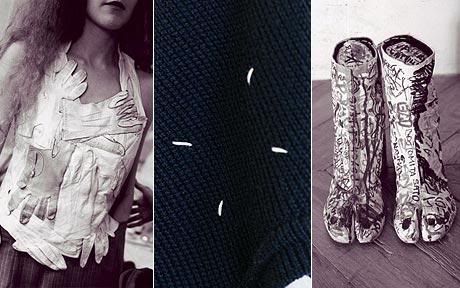 I took a little trip to London a fortnight ago with my main goal being to see the Maison Martin Margiela '20' Exhibition at Somerset House (and also to buy oats for porridge, which I can't seem to find here in Paris, I know I should be lapping up the croissants and I am, but I still love my oats). Photographs were strictly forbidden, however I did some googling and came up with these images to give a sneak peek at the show.
Coming from Australia, where I rarely see Margiela anything in person, it was so exciting just getting to see all the Margiela icons in the flesh - the tabi shoes, the trompe l'oeil, the reconstructed trenches, the jackets made from leather sandals.....etc. etc. etc.
The exhibition also covered the architecture and interior designs of the MMM stores all over the world, past show invitations and a screening room where you could sit in darkness, surrounded archive footage and white confetti. It really made me feel like I was gaining a glimpse into the Margiela world, from the process to product to presentation.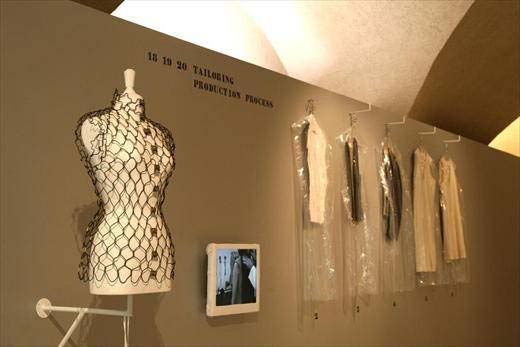 Another exciting thing about this show (because it wasn't already exciting enough!) was the way Margiela's work was presented. There was a strong emphasis on time, both in the layout of the exhibition seperated into chronological themes but also the experience of the viewer. At one point you are faced with a reflective black wall hiding various displays of MMM Haute Couture, with the lighting timed to reveal two garments at a time. I enjoyed being forced to remain at the display in order to see all the garments and that while inspecting one garment the lighting would shut off and draw my attention elsewhere. Each display was given quite a lot of time so it really did force you to concentrate on the details, to engage with the craft and reflect on the number of hours invested in each piece. The archive screening room echoed this technique, with multiple screens fighting for the viewer's attention.
Back in Paris, it seemed like a nice epilogue to the exhibition when the following day I saw a woman strutting down Rue de Rivoli wearing the classic black Tabi boots, my first sighting of these boots worn in real life, and wow did she wear them well.

Thanks MMM