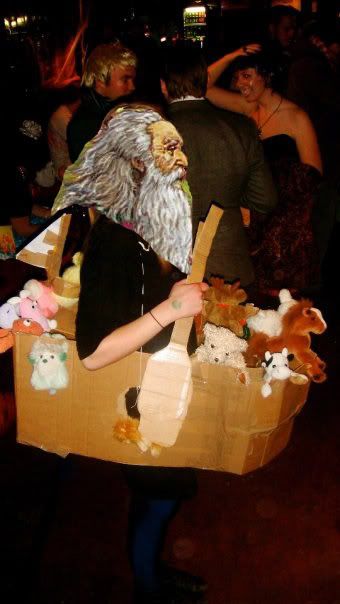 Me with badly photoshopped head of Noah in my very much home-made Noah's Ark costume
Halloween isn't really celebrated in Australia, but two years ago when I was living in Glasgow on exchange I was so excited to discover that Halloween is huge there! Not sure what it is like in the USA (other than from watching TV), but in Glasgow it was mostly for the adults, with hordes of strangely dressed animals, superheroes, witches and I even saw two giant crayons, running wild in the streets and clubs. I went along, of course, with a few friends from America who were very much into Halloween. We were all studying at the Glasgow School of Art, which meant a) we had not much money because being foreign students on exchange we spent our money on rent, art supplies or after class drinks at the student union and b) we wanted to be a little creative with our frugal costumes. I chose to go as Noah's Ark and used a box from the supermarket as my boat, with string to hold it up over my shoulders, blue leggings as the 'ocean' and lots of tiny stuffed animals from the charity store stuck into the cardboard. I also made cardboard oars so I could glide my way around town. In practice of course the oars started to flop after an hour, I nearly lost my animals when they came unstuck (or other people tried to steal them!) and sitting down proved difficult. But despite the impracticality, it was such a wonderful night. I always prefer costumes that are fun and crafty than the typical approach of using fancy dress as an excuse to wear practically nothing.
This year I have some equally fun and thrifty plans here in Paris, I'll have to remember to take some photos and share them with you all. So, does anyone else have plans for Halloween?