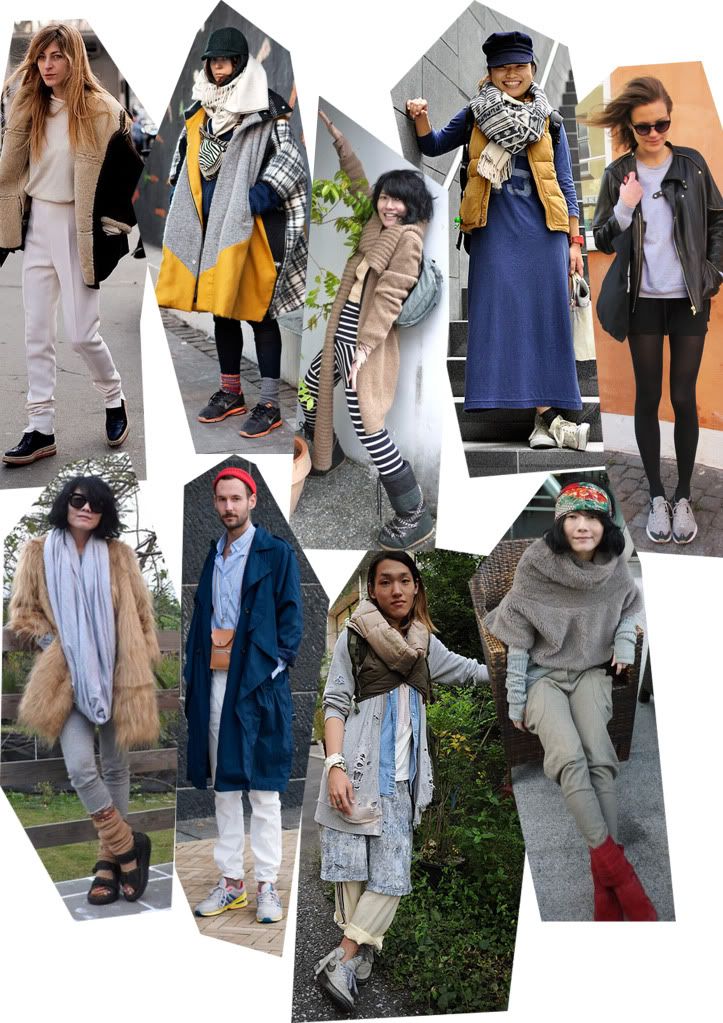 Images via:
Vanessa Jackman, The Locals, Liger, Japanese Streets, Anywho, Liger, The Locals, Japanese Streets, Liger.

So for a while now I've been thinking about Lo-Fi/Hi-Tech style. It started a few years ago when I read this
post
by Yui on her wonderful blog
a slowboat to mediocrity
. It remained in the back of my mind as something I love but wasn't sure how to incorporate it into my personal style. Lately, however, I've started thinking more seriously about it. I was going through the archives of Tommy's blog
This is Naive
and came across
her take
on the style (way back from 2007!). She describes it concisely as a mix of:
Lo-Fi: tradition, natural fibre, rustic craft.
High-Tech: innovation, synthetic fibre, engineered craft
I've always been drawn to Lo-Fi styles. I love the Mori-Girl aesthetic (although watered down when translated to my actual outfits), I love vintage workwear, basket bags, natural fabrics, beaten-up leather, antique lace and cotton, clothes that are worn by time and use and have faded and been patched back together. AND I'm so far over the whole masculine/feminine, designer/vintage mixing matching blaaaaa it isn't funny. Not that I don't enjoy dressing in that way, I love wearing my brogues and my lace dresses and my secondhand crap worn with higher-end stuff, but really I'm over people talking about it as if it is a revelation.
So now, years after first discovering and admiring the idea of mixing lo-fi and hi-tech, I am starting to truly appreciate it (I'm a little slow on the uptake).
These outfit suggestions by
Yui
are infinitely inspiring to me at the moment:
-a vintage embroidered dress with nylon spandex leggings and Nike air rifts
-a crisp Gore-tex windbreaker with a linen Isabel Marant frock and suede moccasins
-a long Society for Rational Dress cashmere cardigan with Adidas track pants and hightop sneakers
-a denim APC frock and Merrel trekking boots
-a hooded jersey Norma Kamali tanktop with a floor-length Dries Van Noten silk skirt and birkenstocks
-a thick knitted Marc Le Bihan poncho with a Y-3 backpack
-a lacy gingham Tricot Comme des Garcons dress and padded North Face skii gloves
A made a little collage to illustrate my thinking, which is still a little vague but I'm really excited about how this could develop.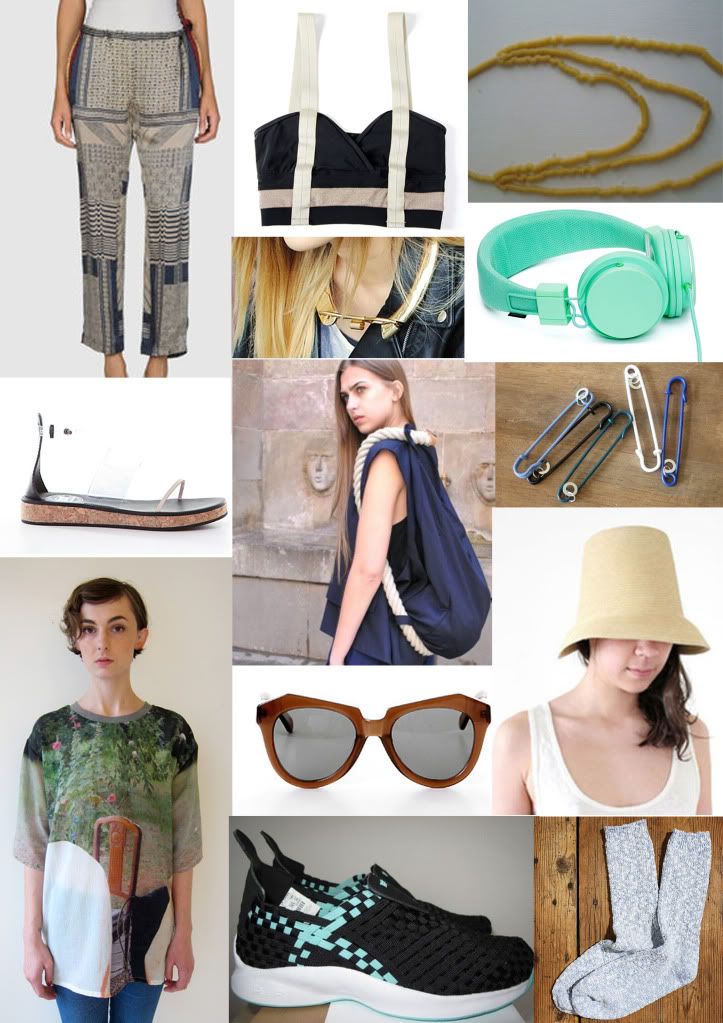 From top left: Tricot CDG sandals via Yoox, J+ Uniqlo Parka, Margaret Howell linen trousers, straw cap via etsy, Anntian leather bracelet via Ooga Booga, Tom Scott sweater via Creatures of Comfort, ffixxed top via Ooga Booga, Bernhard Willhelm dress via Shop Fatal, Bless wooden watch (sold out) via Ooga Booga, Opening Ceremony Cork Jean Shorts via Ooga Booga, Nike Seismic trainers, Dries van Noten printed silk trousers via Yoox, VPL Bikini Top via Creatures of Comfort, pasta necklace via Darling, I Said, Margiela necklace via Stop It Right Now, Urbanears headphones, Acne sandals via Creatures of Comfort, Fabrics Interseason bag via Doshaburi, Bless safety pins and Bless printed top via Stand Up Comedy, Karen Walker sunglasses and hat (sold out) via Creatures, Nike Air Wovens via ebay, Cypress socks via New High (M)art.