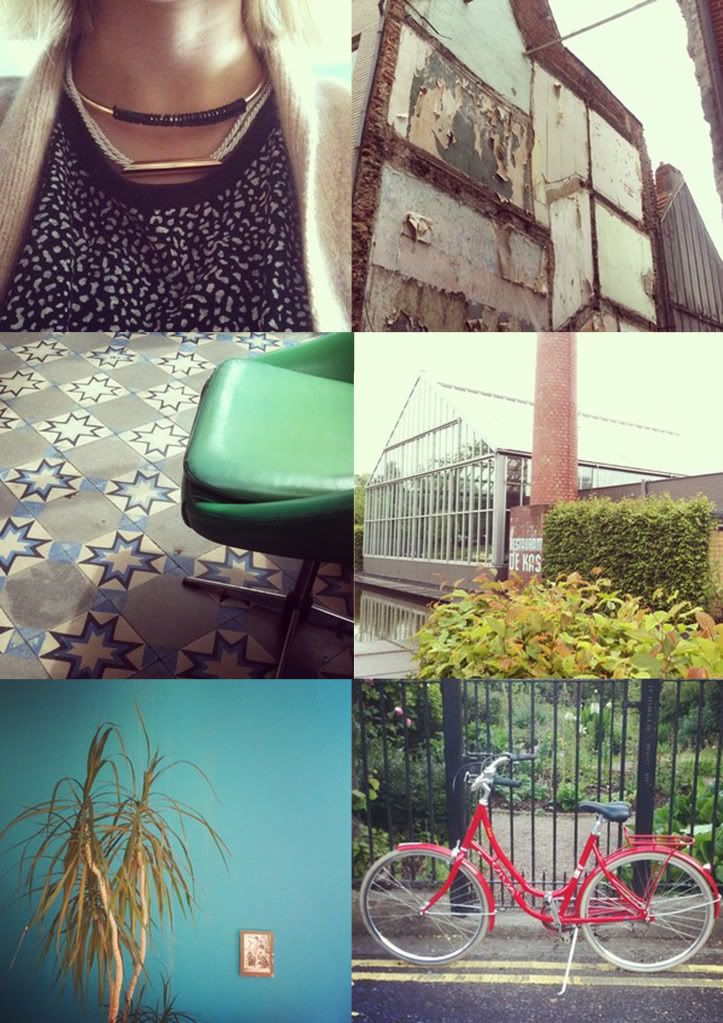 All photos my own, via Instagram (ally__oop) or you can view them
here
.
1. current favourite necklace/top/cardi combo, 2. beautiful decay in Antwerp, 3. interior details at a cafe in Antwerp, 4. De Kas restaurant in Amsterdam, where I ate one of the best meals of my life, 5. interior detail of the apartment I rented in Antwerp, 6. my new bicycle - an early birthday present - now I just need to practice riding it before I take on the mean streets of London.
The last few weeks have been chaotic in the best way possible. I moved house to a lovely place in the east of London, where I even have a garden and place for my new bike. Since then I have been enjoying discovering all the wonderful cafes, vintage stores, pubs and markets this part of the city has to offer.
The day after moving I set off for a holiday in Amsterdam and Antwerp. In Amsterdam we hired bikes and rode along the coast through small villages at the outer edges of the city, we ate amazing food (De Kas and Pont 13 are highly recommended!), peeked into the incredible apartments along the canals in Jordaan and drank delicious beer in cosy local pubs.
In Antwerp we visited the fashion museum, browsed all the incredible second-hand Dries, Demuelemeester and Margiela at Labels Inc., ate at RA13 far too many times (and spotted the one and only Diane Pernet!) and ended up going to the Royal Academy of Antwerp fashion graduate show at the last minute. The show was quite the spectacle, and the skills of the students was mind blowing to say the least. More on this soon.
Now I'm happily settling in to my new job and slowly establishing a new routine - one which will hopefully include more regular blogging!